BROW LAMINATION MELBOURNE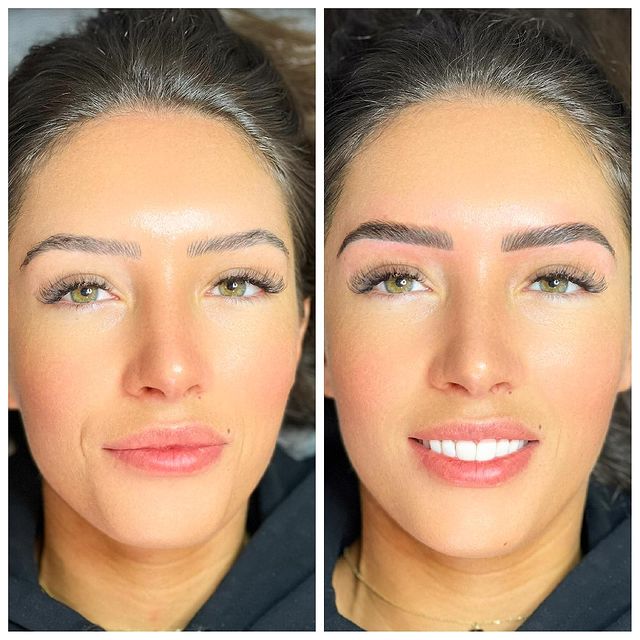 It is a Lash Lift for your Brows, this is perfected by straightening and positioning the hairs using a keratin oil treatment allowing the hairs to sit flush to the skin and nourishes the hair follicles. It is a pain free solution for eyebrows that are in need of symmetry and fills in any gaps. Brow lamination enhances existing hairs and is best for brows with length. Brow tint is complementary and plumps the hair follicles making it extra fuller and darker. We will address if a tint is needed at your appointment, as it varies per individual desire and final outcome.
If you have unruly hairs, hair growth on the baseline but lacking fullness this service is calling you! The brow lamination tames unruly hairs that may grow in different directions, defines, and shapes. This service is a great alternative for those that are not wanting brow feathering and have great length to create a full and fluffy illusion.
Note: We recommend you book a Brow Sculpt in Melbourne to begin, to identify if the service will be best performed on you. We strongly recommend you come to the appointment with grown out and untrimmed brow hairs to achieve the best result.
| SERVICE | COST | TIME |
| --- | --- | --- |
| First Brow Lamination | $145 | 1 Hour |
| Repeat Brow Lamination | $145 | 45 Minutes |
| Lash Lift & Brow Lamination | $250 | 1 Hour |
| First Hybrid Brow Lamination | $165 | 1:15 Hours |
| Hybrid Brow Lamination | $165 | 45 - 60 Minutes |
How does brow lamination work?
Firstly a lift solution is applied to soften the hair allowing the brow artist to position the hair in the preferred direction precisely
A neutralising solution to set the hair structure and your newly positioned brows in place
Then follows a keratin oil treatment to rehydrate and nourish the brows
NOTE we don't normally recommend a brow tint (complimentary) at your first lamination as it plumps up the follicles and your brows appear fuller and darker. This will be addressed at your appointment and will vary per individual desires and outcomes
The benefits of brow lamination in Melbourne
Give the look of a fuller brow using your own natural hair.
Tames long, straggly hair that grows in different directions.
Adds shape and definition, to thinning brows.
Great for those whose brow hairs are barely visible as it plumps the hair follicle creating a fuller brow look.
An excellent option for those who aren't wanting brow feathering.