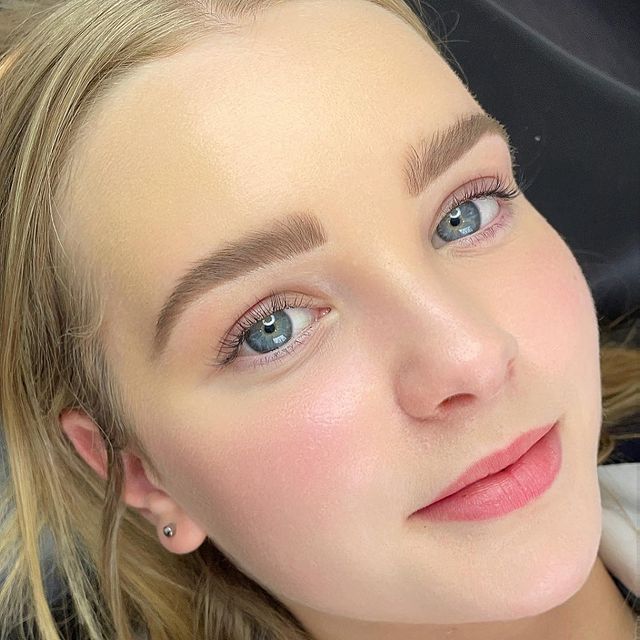 Brow Sculpting is the secret to defining and shaping your face, sculpted brows present a well groomed look, and brows change everything. At Lux Brows and Lashes in Melbourne, we achieve a natural brow look by working with your existing hair, precisely selecting and removing unwanted hairs (wax and tweeze only). We identify areas that need extra attention to achieve your desired look, remembering brow 'perfection' doesn't happen at your first appointment, beautifully sculpted brows don't come naturally, but are achievable with several sessions. A complimentary tint can add additional dimension and depth to your brows, we'll access if required. A brow tint sits on the hair follicle, it does not penetrate the hair shaft. Tinting your brows is perfect for incorporating those fine/fluffy/fair hairs once tinted offers additional fullness lasting 1-2 weeks (varies per individual). This is a conservative solution to enhancing your natural brow colour. We complete the treatment with our signature Lux by Kim Evans brow makeup products. To maintain your perfectly sculpted brows we recommend regular brow sculpts every 4-8 weeks depending on your hair growth life cycle.
Who is Brow Sculpting best suited for?
Brow sculpting in Melbourne is perfect for those who want a soft, natural, groomed brow look or for those who desire a clean, defined brow look (you can opt for a complimentary tint).
NOTE: We do not cut the brow hair. Cutting your brow hair creates gaps as the hair being cut short doesn't naturally fall and ends up sticking straight up and out, as the cut hair grows, causing the hair to fall forward. Naturally, the brow hair would grow longer adding extra fullness.
SERVICE
COST
TIME
First Brow Sculpt
$85
30 Minutes
Repeat Brow Sculpt
$70
30 Minutes
Hybrid Brow Sculpt
$90
30 - 45 Minutes
First Lash Lift & Brow Sculpt
$200
1 Hour
Student Brow Sculpt & Lash Lift
(under 18 - ID required)
$150
1 Hour
What is a Brow Tint?
A Brow tint sits on the hair follicle, it does not penetrate the hair shaft (unlike a hybrid dye). Brow tinting are perfect for incorporating those fine/fluffy/fair hairs. Once tinted, it offers additional fullness lasting 1‑2 weeks (varies per individual).
Perfect for those on the more conservative side!
It's a personal preference, but if you're uncertain your brow artist can assist and advise. If you find you have some stubborn light/baby hairs / grey hairs that you would like to blend with your brow hairs a tint is a good option for you.
What is a Hybrid Dye?
Hybrid is a permanent dye that will penetrate the hair follicle allowing lasting results of up to 7 weeks on the hair and up to 10‑14 days as a skin stain (results vary per individual and for the hair cycle).
Hybrid dye is perfect for those who are wanting to fill in the sparse/gappy brow areas or wanting a little more depth in their brows. Hybrid also offers a bonus to those who are wanting to cut time in their makeup routine ‑ as hybrid will provide a powder brow look.
NOTE ‑ Hybrid is perfect for those who aren't yet wanting to feather and for those who would like to try a less permanent option but are interested in feathering as an option.
Aftercare/Maintenance
For best results please follow the pre-procedure care
Do not a fake tan a minimum of 3 days prior (tan will interfere with the tint/hybrid dye colour).

Gentle skin exfoliation to the brows 2‑3 days before the appointment.

PRE & post ‑ Avoid any oil/cream-based skin care (moisturisers, sunscreen, serums, eye creams etc).

Do NOT get the brows wet for 48 hours after your Hybrid Dye.