Microblading eyebrows have become an increasingly popular procedure for both women and men in recent years. But while microblading for women is now common place, there are still a lot of questions and hesitations when it comes to microblading for men.
In this blog, we'll look at some of the most frequently asked questions about microblading for men – a semi-permanent tattooing procedure that allows you to have perfectly shaped eyebrows. While microblading for women is popular, many men still have concerns about the process.
What is Microblading?
Microblading, also known as eyebrow embroidery or brow feathering, is a semi-permanent tattooing procedure that allows you to have perfectly shaped eyebrows. It's performed using a handheld tool with ultra-fine needles that gently penetrates the skin and deposits pigment into the skin mimicking the look of individual brow hair. 
Skin penetration is shallow making it semi-permanent and the colour fades over time. Touch-up of pigment colour, a 'colour refresh' session is required approximately every 12 months to maintain the natural brow look.
Benefits of Microblading for Men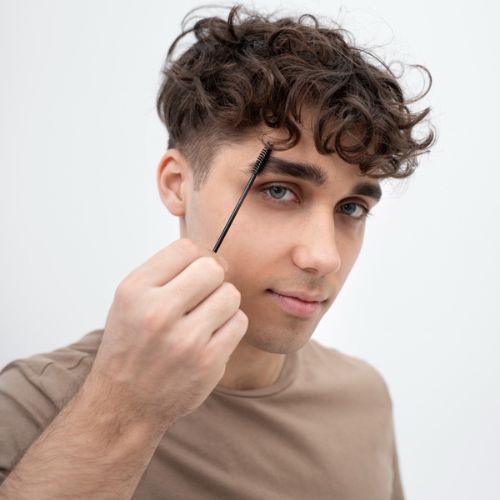 So why would a bloke want to get microblading? Here are some of the benefits:
– It can create fuller brows if you have sparse, gappy brow areas.
– Removes the need to use brow products to fill those gaps in the brows daily.
– Saves time in the morning!
– Makes grooming easier – as your brow shape is already there.
– Helps create improved facial symmetry.
– improves brow shape caused by hair loss: stress, alopecia or ageing.
– Ideal for men in sport or the military who want neat brows that last.
Will Microblading for Men Look Natural?
One of the biggest questions guys have about microblading. The answer is YES – when performed correctly by a trained technician (especially Lux Brows and Lashes), microblading looks incredibly natural, to the point it goes unnoticed.
Your Brow Artist will work with the natural shape of your brows and use feathering techniques to deposit pigment that replicates natural hairs. The hair strokes blend seamlessly with your existing brow hair. 
Brow Feathering is personalised to your hair colour, skin tone and facial features. No two blokes' brows will be the same after microblading. 
Does It Hurt?
There is some minor discomfort involved as it is tattooing the skin. For your comfort we recommend a topical numbing cream that is pre-applied, so most guys report the treatment is comfortable.
Aftercare is simple – for the next 7 days avoid getting the brows wet (no swimming, saunas, spas) and avoid sweaty exercise. 
There may be some initial tenderness as we have penetrated the skin, however, generally, you're able to return to work, and go out and about straight away following the treatment. You'll receive our simple aftercare instructions at the appointment which you follow for 7 days while the skin is healing.
Will I Still Need to Groom the Brows?
You'll still need to groom the brows as you normally would, but typically less often. Depending on your hair growth rate, you may only need occasional waxing/ tweezing.
Your Brow Artist will advise how to maintain your brows going forward. 
Microblading for men is a great option for creating natural-looking, fuller brows that save you time and hassle. Lux Brows and Lashes are experts in men's microblading, creating bespoke brows that complement your natural features, hair colour and skin tone. Our feathering techniques ensure strokes blend seamlessly for incredibly realistic results.
https://luxbrowsandlashes.com.au/wp-content/uploads/2023/11/Microblading-for-Men.jpg
259
738
SEO SEO
https://luxbrowsandlashes.com.au/wp-content/uploads/2023/08/lux-logo.png
SEO SEO
2023-11-20 07:01:38
2023-11-22 12:59:51
Microblading for Men: Answering Common Questions and Concerns