Are you considering a natural enhancement for your eyebrows but feeling overwhelmed by information overload online and conflicting advice from peers?
Brow feathering vs. microblading can be perplexing. As experts in brows, we understand your struggle and are here to provide clarity. Many clients face these same questions when seeking eyebrow solutions. To simplify your decision-making process, we've crafted this concise article to outline the differences and help you determine the best fit for your needs! Before beginning brow feathering vs microblading let's know more about these procedures.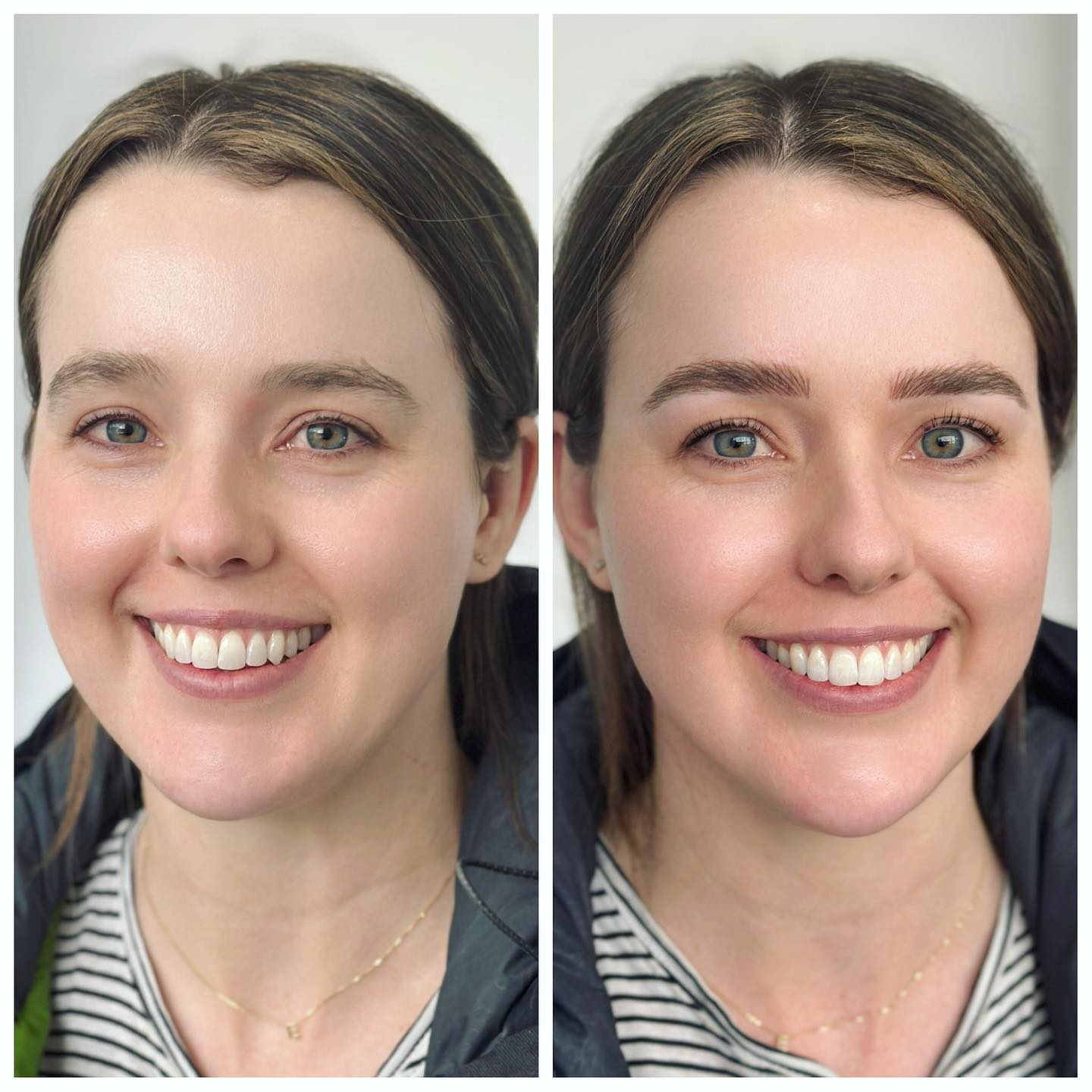 What is Microblading?
Microblading is a semi-permanent eyebrow tattoo that physically draws on eyebrow hairs, providing the appearance of naturally full brows.
Who Can Benefit from Microblading?
Microblading is most suitable for individuals lacking eyebrow hair, relieving those who must draw in their eyebrows. It's an ideal solution for sparse, overplucked, or lost eyebrows due to conditions such as alopecia.
What Happens During a Microblading Session?
During your first microblading session, your practitioner will shape and style your eyebrows to your preference. Once approved, you'll select the pigment colour that will be deposited into your brows. Using a pen composed of 12-15 needles, the therapist will begin filling in your eyebrows, creating realistic, natural-looking eyebrows. This session typically lasts from one and a half to three hours. A follow-up in four to six weeks is recommended to gauge healing fading and provide touch-ups. If there are gaps or noticeable issues with your brows, your practitioner will fix them. Follow-ups usually take one to two hours.
How Long Does Microblading Last?
Microblading usually lasts one to three years, depending on your skin type, age, environment, lifestyle, and exposure to the elements.
What is Eyebrow Feathering?
Brow feathering, or microfeathering, is a type of microblading considered less permanent and invasive. It uses a precise blade to minutely cut and insert pigment into each incision, creating the appearance of individual hairs where gaps and sparsity previously existed in your brow.
Who Can Benefit from Eyebrow Feathering?
Feathered brow look is more suitable for people with naturally full eyebrows but gaps and areas with very few hairs. If you have oily skin, you might not want to get eyebrow feathering done, as oily skin can prevent the pigment from absorbing correctly, causing discoloration or pigmentation loss. You can opt for brow feathering to enhance your facial looks.
What Happens During an Eyebrow Feathering Session?
An initial consultation is necessary before an eyebrow feathering session. During this consultation, your therapist will examine your brows to ensure enough natural hair to work from. A consultation generally takes an hour. You will typically need to grow your brows beforehand because microfeathering uses your brows as a base for tattooing, unlike microblading, in which the brows are created from scratch. During the first official feathering session, your expert will use a blade to form hair-like incisions that deposit dye into the uppermost skin layer, targeting the gaps in your brow's dense areas. A second session is scheduled for about six to eight weeks in the future, where any pigmentation fading or lack of pigment absorption will be addressed with additional strokes. Each session takes about two hours.
How Long Does Eyebrow Feathering Last?
Eyebrow feathering is less permanent than microblading, typically lasting about nine to 18 months.
Microblading vs. Feathering: How Do Brow Feathering and Microblading Differ?
Microblading suits sparse and thin hair types requiring fuller coverage, while brow feathering enhances naturally thick brows without altering their shape significantly.
Brow feathering provides a subtler and more natural look by filling sparse areas with hair-like strokes.
The gradual fading and subtle appearance of brow feathering offers flexibility for those seeking to change their brow appearance over time.
In conclusion, both brow feathering and microblading have their similarities and differences. We hope this guide helps you make an informed decision. If you have more questions about the procedures or are ready to get started, please don't hesitate to contact Lux Brows and Lashes.
https://luxbrowsandlashes.com.au/wp-content/uploads/2023/10/Microblading-or-Feathering-Brows.jpg
259
738
SEO SEO
https://luxbrowsandlashes.com.au/wp-content/uploads/2023/08/lux-logo.png
SEO SEO
2023-10-13 05:45:19
2023-10-13 05:48:07
Microblading or Feathering Brows: Understanding the Differences